VirkonS - oxidative disinfection
Virkon®S Breedspectrum formulering is uniek. Geen enkel ander ontsmettingsmiddel heeft dezelfde krachtige samenstelling of een dergelijke uitgebreide portfolio van prestaties en veiligheid testgegevens.  In termen van effectiviteit, heeft Virkon®S onafhankelijk bewezen, zeer effectief tegen meer dan 100 virusstammen in 22 virus families, 400 bacteriesoorten en meer dan 100 soorten schimmels.  Deze lijst van bewezen werkzaamheid bevat o.a. het Canine parvovirus, Katten-leukemie virus, Salmonella, E-coli en het van dierlijke oorsprong MRSA.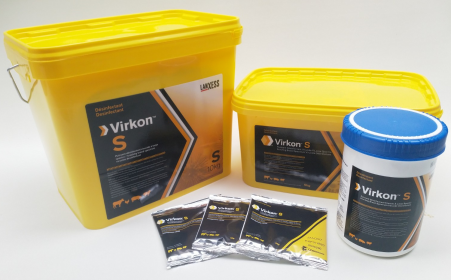 Bijzonder veilig voor gebruiker
Virkon®S is makkelijker in gebruik en heeft minder beperkingen dan veel andere desinfecterende producten. Ook is het niet geclassificeerd als schadelijk, het veroorzaakt geen overgevoeligheid in zowel poedervorm als in gebruiksverdunningen, in overeenstemming met EU-criteria(1999/45/EG).
Toepassingen
Virkon®S kan makkelijk worden toegepast met een dweil, doek, spons of spray. Virkon ® S is ideaal voor het in één stap reinigen en desinfecteren van harde oppervlakken en apparatuur , vloeren, wanden en kooien, voer- en waterbakken en speelgoed in kennels.
Virkon®S is ook te

bestellen via onze webwinkel.