Derma-Prescription - dermatological shampoos for dogs, cats and horses
Derma-Prescription - shampoo for dogs, cats and horses
Although a dog or cat naturally takes good care of its coat, it is advisable to support this care from time to time. Washing with a suitable dog shampoo is important in order not to unnecessarily affect the fat layer of your dog or cat's skin. This fat layer is necessary to keep the skin healthy and serves as an extra protective layer. Washing too often or with the wrong shampoo can damage this layer and unbalance the condition of the skin.
In dogs with skin problems, it may be necessary to wash frequently as standard. Only use a dermatological shampoo that is specially intended to treat the complaints in question. The wrong shampoo can cause aggravation of the complaints.
The dermatological shampoos from the Derma-Prescription line have been specially developed for the needs of dogs, cats and horses. These shampoos support the treatment of skin complaints caused by an allergy, too dry skin, but also by infections of the skin with fungi and bacteria.
The Derma-Prescription line consists of 7 shampoos, one conditioner, one cream and a pH-neutral ear cleaner, all of which have been developed for use in dogs, cats or horses with special skin and/or coat needs. Click on the links or on the attached product label for more information and product specification about the Derma-Prescription products: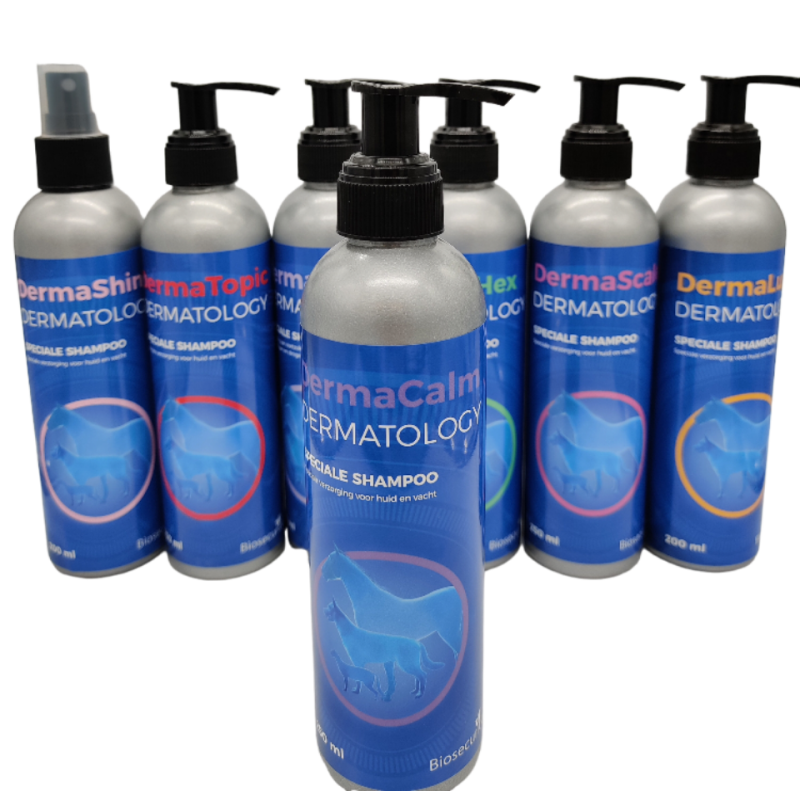 Read more